O djelu Mija Mijuškovića sa puno uvažavanja pisali su i pišu likovni kritičari i teoretičari, istoričari umjetnosti, slikari i pjesnici, teatrolozi, biolozi, novinari. O njegovom djelu realizovano je više televizijskih dokumentaraca i emisija iz kulture.
  O MIJOVOM DJELU REKLI SU
– Mijo Mijušković je monah (eremit, pustinjak) zavjetovan skulptorskom Redu i posvećen iznalaženju one forme koja bi mu pružila potpunu slobodu kao što je slobodan njegov život. On je pod ugovorom s prirodom, ali obavezan samo pred Bogom koji ga je obdario. ( Mirko Kovač, književnik )
Više –    Mirko Kovač
-Mijušković vajajući otkriva dušu, srce i krvotok kamena. On je od Boga poslat da nas pomiri s kamenom i da nam kaže kako nam je u njemu i ishodište i uhodište – bez obzira gdje smo nikli i gdje ćemo usahnuti. (Slobodan Marković, teatrolog)
Više – Slobodan Marković

– Stena, kamen su sirov materijal – onakav kako ga je formirala priroda. Nešto sugerišu, ali u suštini računaju s umetnikom koji će razrešiti njihovu tajnu. Jer, stena je tajanstvena, spolja sirova, dok u središtu krije svoja estetska blaga. I, Mijo to savršeno shvata.
( Henrik Jurkovski, estetičar i teatrolog – Poljska )
Više –  Henrik Jurkovski
– " Za  Mija – Sretan sam što sam sreo jednog slobodnog čovjeka,
Pol Filip, direktor UNESCO instituta za spomenike kulture, Rim.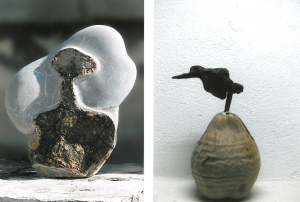 – Umjetnikova ambicija da dodirne tajanstva pramaterije darivala ga je ne samo nesavladivom energijom prirode već i očaravajućim saznanjima o njenoj unutrašnjoj ljepoti. Tako i doznajemo da kamen ima i masku kao svoju spoljašnost ali i svoju tajnovitu skrovitost kao svijet rafiniranog sklada. Tu je prisutna neočekivana svetkovina boja, kakve se, u takvim nijansama, nigdje drugdje ne mogu vidjeti.
( Ratko Božović, sociolog kulture  )
Više – Ratko Božović
– Pred Mijuškovićevim skulpturama se ponekad osetim kao da sam pred početkom našeg postojanja, a u isti mah kao pred rađanjem novoga sveta posle jedne tragedije. ( Dušan Matić, književnik )
Više – Dušan Matić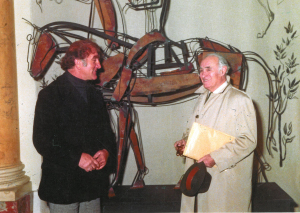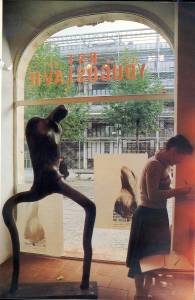 Udruštvu sa predsjednikom Francuske akademije umjetnosti
 Lu Lejgom, Pariz 1979
– Poetsko – to je okosnica Mijove estetike, poetsko koje sadrži mitsko i magijsko iskustvo pradavnih stanja bića u kojima su reke i planine, kanjoni i ponornice, oluje i zemljotresi menjali sudbinu sveta. Mijušković svojim delom otvara prostor nadistorijskog transcedentnog, mogućeg. ( Sreto Bošnjak, likovni  kritičar)
Više – Sreto Bošnjak
Više – Otvaranje izložbe u Somboru, 2008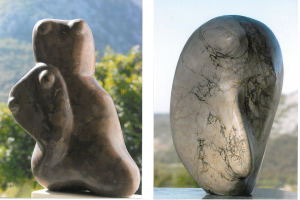 – Mijo Mijušković je rasni vajar, koji je izabrao da sarađuje sa Prirodom. Tako su se dva rasna vajara našla na istom zajedničkom poslu. Ne zna se koji je od njih bolji i nikada se neće znati, jer obojica, lišeni svake sujete, doprinose istom delu. Razlika među njima je samo u tome što su vajaru – Prirodi potrebni milioni godina da stvori svoje kamene mase, strukture i oblike čudesnih boja. Miju trenuci nadahnuća, probuđene mašte i rada, da bi se otkrilo neotkriveno, videlo neviđeno i dao ljudski smisao lepoti.
(Siniša Vuković, likovni kritičar)
Više – Siniša Vuković
– Mijo poznaje sirenske glasove urbanih sredina, artificijelne napitke za bodlerovske "veštačke rajeve". Ali on svoju snagu, kao Antej, nalazi u lomu krša, beskrajnog neba, oluja, snegova, sveta od iskona.
( Radoslav Josimović, kniževnik, teatrolog  )
Više – Radoslav Josimović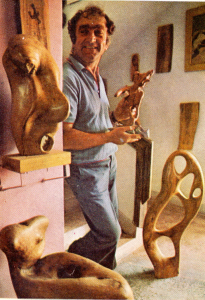 Mijo u društvu sa tetrologom Henrikom Jurkovskim
– Apstrakcija kod Mijuškovića ne znači nikada statičko ili mističko povlačenje, već tako dramatično ushićenje nad jednim trenutkom života koji se rađa, koji raste i beskrajno se predstavlja u svom nastajanju. ( Sandra Đanatasio, likovni kritičar  )
Više –  Sandra Djianatasio
– Jednostavno rečeno, sve ono što je Mijušković stvorio je veličina vajarskog djela, samoniklog i toliko dobrog da će se teško prevazići, ne samo u našim okvirima. Dilemu o bližem stilskom opredjeljenju ovog opusa jedino je ispravno riješiti činjenicom – Mijo je Mijo.
( Mladen Lompar, pjesnik, likovni estetičar)
Više – Mladen Lompar 

– U utrobi čudesnih skulptura Mija Mijuškovića zatočen je zvuk, sunce i vreme.  A sve što je kod njega isklesano u lepotu zamrznutog pokreta otvara se u nama kao strašna drama čoveka i vremena: Mijušković je prorok koji se seća praoblika.
( Žarko Komanin, književnik )
Više –  Žarko Komanin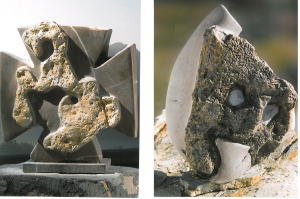 – Ovo je jedna od najneobičnijih ljudskih sudbina s ovog crnogorskog krša..  (Milan Pešić, internacionalni majstor  fotografije)
– Mijo na svjetlo izvodi čudestven svijet koji je u kamenu tamnovao od ere praoblika …  Gledao sam, dok radi, njemu se sa punim povjerenjem podaje i predaje svaki djelić materije, svaka nota u sazvučju linija buduće skulpture.
(Pero Radović, tv autor i publicista )
Više –   Pero Radović
Više – Umjetnost iz bića prirode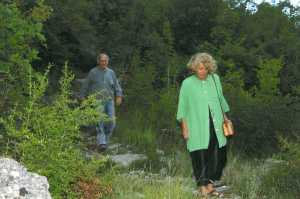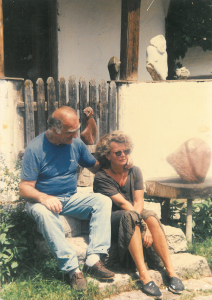 Sa Oljom kroz Jugoslaviju i Svijet
– Mijuškovićevo stvaralaštvo sadrži i epohalnu edukativnu poruku kojom se posmatrač upućuje na otkrivanje istine bića, koja se istina, uprkos našem savremenom zaboravu, kao Duh i Lepota, pokazuje sveprožimajućom.
(Siniša Jelušić, likovni estetetičar)
Više –  Siniša Jelušić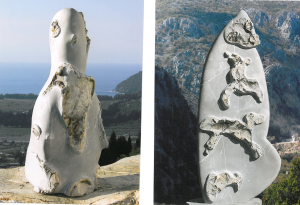 – Kada bira, Mijo ne traga samo za slepim delima stihije. Odlazi on namerno na sveta mesta, gde je normalno da duše stanuju u kamenu ili u prastarom drvetu.
(dr Vojislav  Vasić, prirodnjak)
Više – Hronos  i tropos

– Što je teže, to je bolje, najbolje kad je nemoguće, njemu ni hiljadu sati nije žao da neku žilu kucavicu, neki biserni oblik kamena izvadi i oslobodi. (Milan – Beli Popović, kulturolog)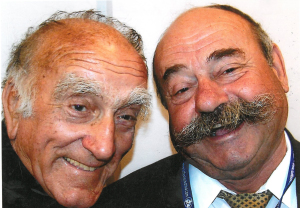 U društvu Petra Banićevića i Krsta Mladenova
– Mijo Mijušković veruje da je duša Crne Gore satkana od drveta i kamena. Njegove ogromne ruke mogu da rezbare i oblikuju s izuzetnom preciznošću. I lice mu je krupno kao model za nešto što treba da se iskleše u planini.
(Brajan Hodžsonu, urednik časopisa National Geografics)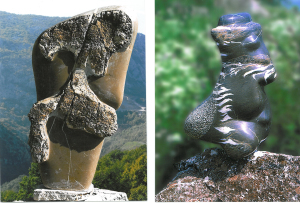 – Glačao je Mijo kamen uporno, strpljivo. Brisao ga, glačao. Spirao nekim čudnim vodama, pa opet brisao dok se ne bi vratile njegove zaspale boje. I nježno slile niz oblik – zelene kao ponor, smeđe kao pokislo jesenje lišće, plave kao kosmički odbljesci.
(Vesna Mališić, novinar i publicista)
Više –  Vesna Mališić

– Mijuškovićeva umjetnička rijeka puna je meandara, u čijim brzacima stanuje čitav jedan kosmos.
(Selimir Radulović, književnik)
Više –  Selimir Radulović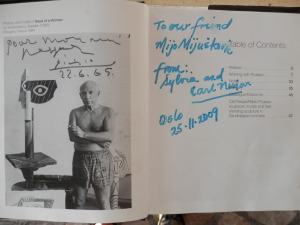 Susret u Igalu sa velikim norveškim vajarom  i Pikasovim saradnikom
Karlom Nesjarom
-Čovek može da stvara u duhovnom i materijalnom svetu. Najčešće radi separatno, ili u jednoj ili drugoj sferi i samo retki uspevaju da načine spoj ova dva. Za one koji to čine mora se reći da su ostvarili vezu sa dušom i telom – to važi za vajarstvo. Vajar svoje delo prvo doživljava u mozgu, zatim iz sfere nematerijalnog materijalizuje u obliku mermera, drveta, gvožđa ili nekog drugog materijala i to izlaže kritici, radoznalcima, kupcima.
dr Vlado Miličević prirodnjak,
Više – Dr Vlado Miličević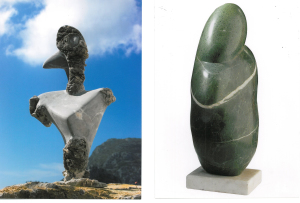 – Zato vrijednost ovih skulptura ne proizlazi iz nekih određenih kanona, one su prvenstveno izraz oplemenjenog osjećanja života koje crpe snagu iz autentičnog poimanja prirode.
(Zdravko Vučinić, likovni  kritičar )
Više – Zdravko Vučinić
– Kod Mujškovića se sve više razvija njegov senzibilitet, njegovo izvorno skulptorsko osjećanje. (Olga Perović, likovni kritičar)
Više – Olga Perović
– Ne znam da li će nečije pamćenje nekad krojiti vrijeme, hoće li moći da pozove onu ljepotu što je skamenjena bila u kanjonu bistre Pive, ali sam siguran da će to pamćenje imati nezamjenjivog putovođu u tvome djelu, koje je nastalo tvojom snažnom inspiracijom od Oka pivskog do Šćepanice. (Petar Đuranović, pjesnik)
Više – Petar Đuranović
Više –  Izložba u Danilovgradu 1997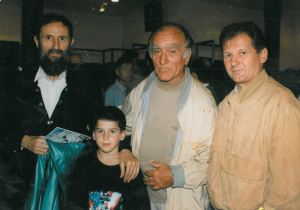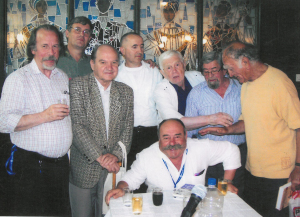 U društvu sa Živkom Nikolićem (lijevo)  i sa stvaraocima dječjeg pozorišta iz Evrope (desno)
– Ove Mijove skulpture u kamenu se moraju primati i kao netaknuta priroda. To je ono što mene ushićuje u njegovim skulpturama.
(Adam Puslojić, pjesnik, eseista )
Više –  Adam Puslojić
-Čudo! Lepo je rekla Marina Cvetajeva:"Ljubav uvek nađe".
Ti ljubav nađeš u prirodi i, ulepšanu, istočiš iz duše. U toj tvojoj moći da tvoja ljubav prema lepoti uvek nađe lepotu – tebi u tome pomažu i planinske vile! Ne opiri se, Mijo! Priznaj: one su te omađijale! Lepotice su ti dosudile najlepše – da ti se ljudi dive.
Ljuba Vukmanović, pjesnik – "Ruka na srce"
-… ON OTKRIVA DUŠU KAMENA
STVARA ČUDESNE OBLIKE
ON OTKRIVA NJEGOV KRVOTOK
BOJE … Više – Vida Jocić
– Klesar crnih planina. Mijo se nadahnuo istoimenom Transtremerovom  (od 2013. nobelovac op.r) pesmom posvećenom jednoj od svojih poseta Crnoj Gori, pesmom koja opisuje putanju uspinjanja uz krševita brda i završava stihom: "U planinama gore mora plavet dohvata nebo". Mijo je, zapravo, načinio čitav jedan svoj ciklus skulptura inspirisan ovim pesnikom i samo jednom njegovom pesmom. Baš kao što je i sve ono drugo što je Mijo sačinio deo iste kamenoiskričave duše te iste Crne Gore.
(Moma Dimić, pjesnik, eseista )
Više – Moma Dimić
              Više od nagrade
– Šta, u stvari, radi Mijo? On osluškuje kamen; "shvata" njegove ritmove, a njegovi ritmovi nisu samo određeni sedimentima, slojevima i odnosima između njih; nego jednom strukturom koju on, na volšeban način, vidi.
(Zoran Gluščević, književnik, književni i likovni kritičar )
Više – Zoran Gluščević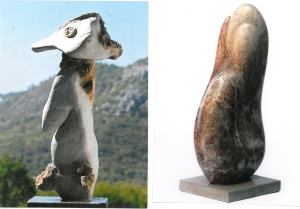 – Mijova skulpturska umjetnost, uvek u dosluhu sa arheologijom i geologijom, počela je umećem osluškivanja i posmatranja prirode (to je bila njegova Akademija!), zatim je došlo raspoznavanje i izdvajanje (što je jednako činu stvaranja), da bi danas dospeo do najsloženije faze: do prodiranja u strukturu, u dušu kamena, do neke vrste seciranja njegove materije i do analize njegovih neodgonetanih nutarnjih slojeva, sve do onog od njih u kome je skrivena "ideja", misao.  (Jovan Rastegorac, pjesnik, eseista )
Više –  Jovan Rastegorac
… Ovaj kamen, donet je opet, gotovo iz nedohoda
i opet sa dna, ili iznutra.
U ruci darodavca, rascvetavaju se iz njega, plamičci pravatre i prah zvezdanih prašnika…
(Tomislav Mijović, pjesnik, kulturolog)
Više  – Tomislav Mijović
– Mijo nije samo istraživački i nadahnuto otkrivački vajar, on je i mislilac nad kamenom i nad životom u kamenu; redak otkrivalac nad svojim traganjima: zato su značajne i njegove kamene lutke otkrivene u životu kamenja jer imaju dušu.
Milenko Misavljević, prilikom otvaranja izložbe u Nacionalnoj galeriji u Beogradu 2013.